In this article, you will learn how and why to measure your keyword rankings. You will find out the pros and cons of measuring using data from Google Search Console or other tracking tools and also the benefits that Serpconsole brings to the table.
What are keywords in Google search?
Keywords are the words or phrases that people enter into a search engine when they are looking for something.
As a website owner and content creator, you want the keywords on your page to be relevant to what people are searching for so they have a better chance of finding your content among the results.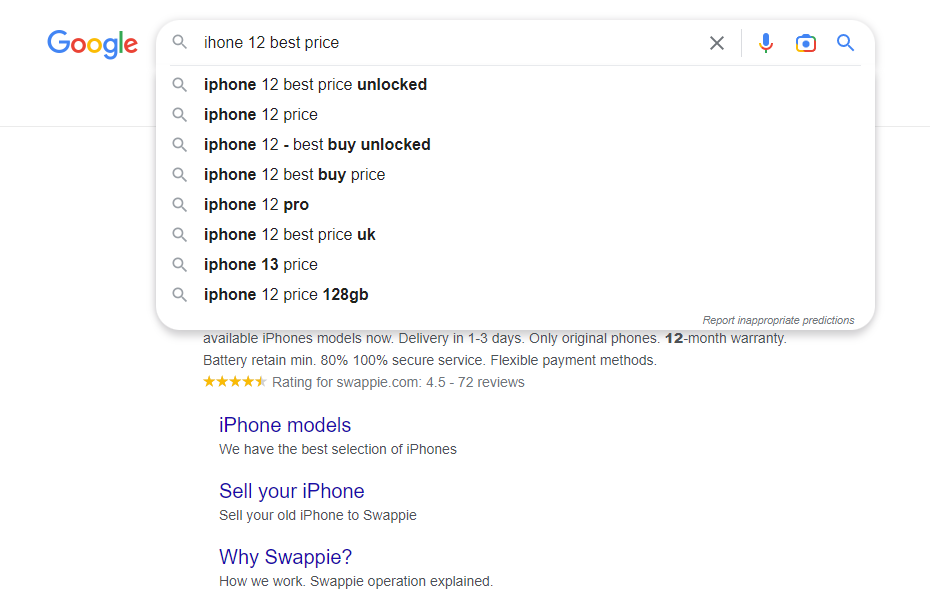 What does keyword ranking mean?
Keyword ranking is the position that a particular keyword holds in the search engine results pages (SERPs). The higher the keyword ranking, the more likely it is that people will find and click on your website when they search for that keyword.
Why checking your Google rankings is essential for your business
It's essential to check your Google rankings regularly because your position in the search results can greatly impact your business. If you're not on the first page of results, you will likely get less traffic and fewer customers. Checking your rankings can help you to identify any problems with your website and make sure that you're doing everything you can to improve your position in the search results.
How do tools measure positions on Google?
The ranking measurement can be divided into 3 methods:
Google Search Console
It measures the ranking from its own database. Because it is a tool directly from Google.
Pros:
You don't have to manually insert keywords
Displays rankings for long-tail terms
Daily updated rankings for every keyword
Rankings for all countries
Rankings for all devices
Clicks and impressions for both keywords and landing pages

Cons:
Does not show keywords where there were no impressions for the measured website
Without API it will display a maximum of 1000 rows of data
Averages rankings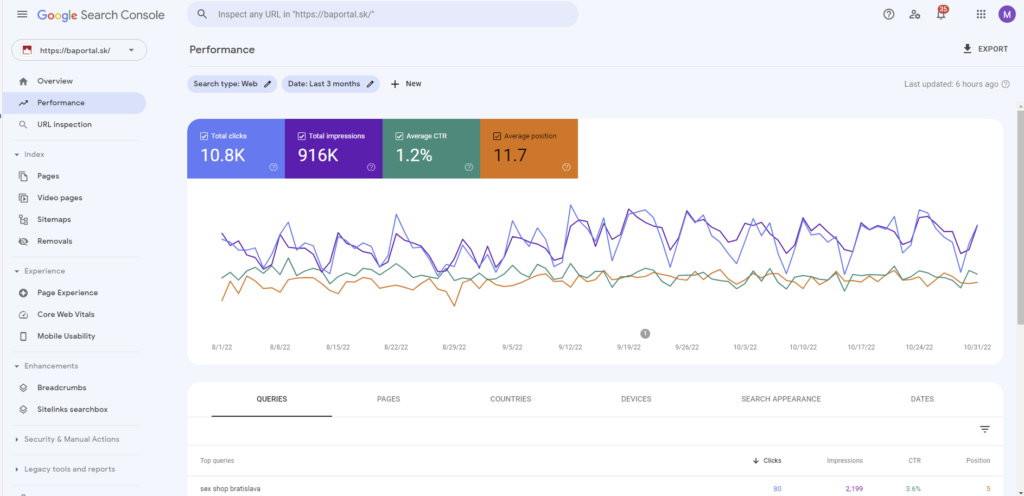 Manual ranking tool
These tools use bots to search for a keyword in Google and download the first 100 results. They search for the domain you enter and calculate the ranking.
Pros:
Shows the rank even if there was no impression
They can track positions on different search engines
You don't have to be the site owner
Cons:
You need to manually insert the keywords you want to track
Daily tracking costs more
Does not include data of impressions and clicks
Competitor keyword analysis tool
These tools use 2 methods that combine together. They collect data on the keywords searched using Google suggestion, Google Keyword planner, and their volume data.
Then, for each keyword collected, the bot goes to Google and pulls the top 100 results. It combines all these results into one huge database. Then if you put your domain in there, you'll find out the keywords and positions.
Pros:
You don't have to manually insert keywords
Volume data for keywords
Estimated traffic
You can analyze the competition
Cons:
Doesn't show all keywords (Only the ones they have in the database)
Does not show clicks and impressions
Does not show daily positions (Mostly once a month)
How can Serpconsole improve your workflow with keyword tracking?
Serpconsole is a tool that can import data from Google Search Console API and then display them in a more visually friendly format with lots of useful features. So Serpconsole is not a competition to Google Search Console, but an add-on.
Pros:
Displays daily keyword rankings
More than 1000 rows (Limitation of GSC interface)
More than 16 months of data (both GSC and API limitation)
Dates of first occurrence (Not included in GSC)
New and lost keywords (Not included in GSC)
Improved and declined keywords (Not included in GSC)
Charts with aggregated monthly rankings (Not included in GSC)
Smart groups to combine keywords and landing pages (Not included in GSC)
Cons:
Paid SaaS tool
Takes some time to download data
First steps with Serpconsole keywords rank tracking
To use Serpconsole you need to have a Google account and a connected website in Google Search Console. Then is possible to connect these two tools and the benefits of Serpconsole. If you need help with connection, use this guide.
If you have already connected to Google Search Console and it is downloaded to Seprconsole, you can navigate to the Keywords section.

As you can see in the image below, the table contains keywords for the last 30 days and a comparison with the previous period. Contains all keywords for which the page appears in the Google index and has received impressions except those that Google has anonymized (mostly personal data).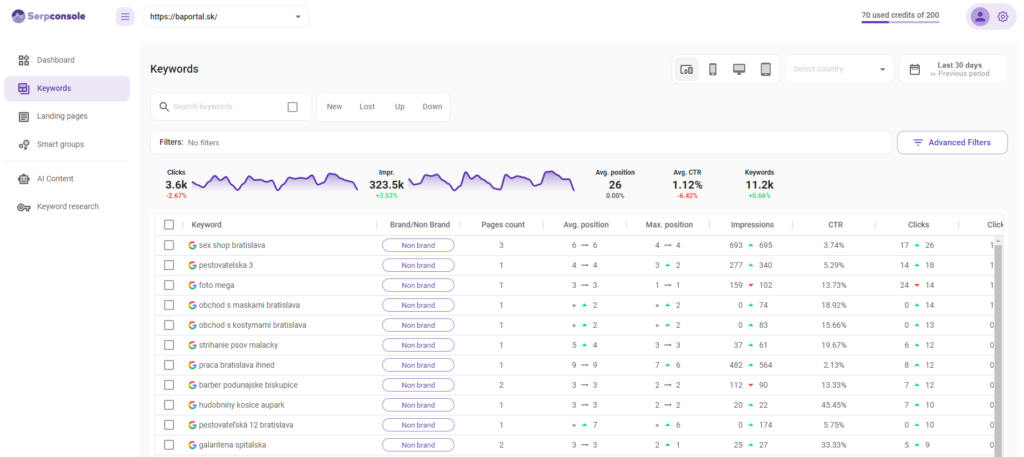 What does the table contain?
Keyword: The phrase that the user entered into the Google search
Google Icon: Link to the Google results for the keyword
Brand/Non-Brand: Automatic labeling for branded keywords
Pages count: How many landing pages were displayed for the keyword
Avg. position: Average position of the keyword for the given period and comparison with the previous period
Max. position: The top position the keyword was ranked in the given period
Impressions: How many times the keyword has been displayed with at least one landing page of the monitored domain
CTR: Click-through rate is the percentage of clicks on the landing page compared to the number of impressions of the keyword. It indicates how often people chose your page after searching for a given keyword.
Clicks: clicks on landing pages from your domain
Clicks %: How many clicks the keyword received compared to others in the table
First Seen: The first occurrence of the keyword in the data
Last seen: last recorded occurrence of the keyword
Top URL: A landing page with the highest position for the keyword
What are the filtering options?
Search input: Simply search for a keyword or part of a word
New: Filters only new keywords that did not appear in the last period
Lost: Filters only lost keywords that no longer appear in the current period.
Up: Filters only keywords that increased in position compared to last month (by average position)
Down: Filters only keywords whose position has decreased compared to last month (by average position)
Devices: Filters keywords and statistics by the user device
Countries: filters keywords and statistics by selected country
Date picker: Date range selection and comparison
Advanced filters: Allows you to filter ranges for positions, clicks, and impressions
All these filters can be combined with each other. It is also possible to use sorting by data from the current period.
Daily rankings of one keyword in Serpconsole
To view the rankings of an individual keyword, just click on a row in the table. Within the chart, you can see the rankings for the selected period from the table. You can also see which landing pages were displayed and their average rankings.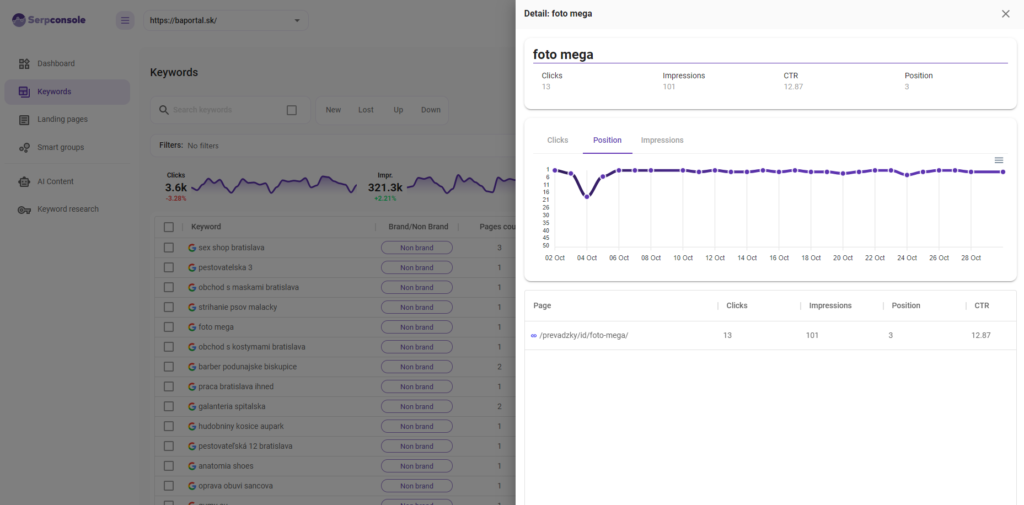 See also how to find out keywords for a specific blog article